World Book Day is the biggest annual celebration of books and reading in the UK and Ireland. To help you join in the fun, the Literacy Time PLUS team has chosen five great reads for you to share with your children.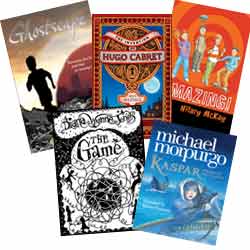 The five books featured here have been chosen because they lend themselves particularly well to discussion and creative classroom activities.
The Game
Diana Wynne Jones
(Harper Collins, 978 00072 63790)
Hayley has been brought up by her grandparents. Her Grandma is extremely strict, while Grandpa is always beavering away at his computer studying the mysterious Mythosphere. One day he gives Hayley a glimpse of this forbidden magical world – a world with which she will soon become far more familiar.
When Grandma can't cope with Hayley any longer, she sends her to Ireland to live with her cousins. They introduce her to 'the game', which involves adventures in the forbidden Mythosphere among characters from Greek myth and ancient folklore. Hayley is about to discover the truth about her rather extraordinary family.
Log in to your account to read
Reviews
You need to be signed in to place a review.