CILIP Kate Greenaway Medal 2011 winner, Grahame Baker-Smith, talks to us about his work, influences and his children's book, FArTHER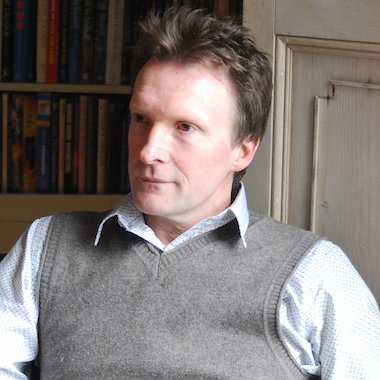 How do you develop your ideas? What was the starting idea for the project that became FArTHER?
The starting point for FArTHER was an image that came into my mind's eye during the course of an ordinary day. I saw a figure, a man, sitting at a workbench making a pair of wings. At the time, as I went about the various tasks and demands of the day, I did not know who he was or what he was really trying to do. In the evening, the house grew quieter and the family retired to bed. I felt there was a story somewhere in this image and so sat downstairs (with a glass of dark English ale), took out a notebook and pen and the first line just appeared: 'Poppies lined the path to my father's house.' From there on over a period of about an hour and a half I wrote the story line by line, as if it were being dictated. I didn't really know exactly what was going to happen or where it was all leading to – the things that happened in the story were a surprise to me – but I had a feeling of something being 'right' and a sense of exploration and trust in the work, that all will be OK!
I didn't know until I actually wrote the words that the Father would be called away to war. This was a part of the story I actually hesitated over as it seemed a bit extreme for a picture book, but then decided to go with the flow as it seemed an important and pivotal point in the story.
I also didn't know how it was going to end and, again, until I got to the last two pages I couldn't imagine how to end it at all, but somehow it just seemed to fall from the pen. I still have the notebook and barely a word has been changed from that to the final published text – and there was no crossing out!
Log in to your account to read
Reviews
You need to be signed in to place a review.