John Stringer shows you how to spark children's interest in science with some fantastic resources.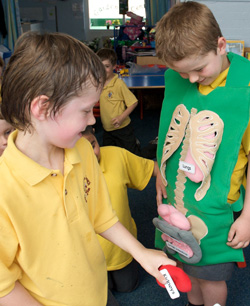 Philip Harris' science resources provide the perfect hands-on learning experience
Many teachers of young children approach science with a mixture of excitement and unease. The excitement comes from how science can engage children in a hands-on way, while the unease comes from it being difficult to know exactly how to capture children's interest and then sustain their curiosity. For successful science, you need activities that are reliable, engaging and exciting, together with reliable resources. With this in mind, science educational resource provider, Philip Harris, partnered up with Holden Clough Community Primary School in Ashton-under-Lyne to showcase a selection of experiments aimed at making the primary science curriculum accessible and, most importantly, lots of fun. Below and right are three, fun activities that were tried and tested by Holden Clough Year 1 and 2 teacher, Helen Woolfenden.
All the science resources featured in this article can be found in the latest Philip Harris catalogue. To request a copy, please call 0845 120 4520 or visit www.philipharris.co.uk
Log in to your account to read
Reviews
You need to be signed in to place a review.