Tackle the tricky concept of light and dark with these fascinating and inventive activities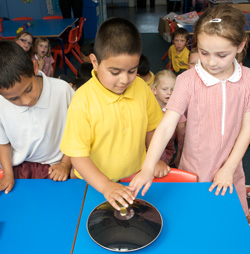 Children discover the wonder of a mirage where light can make things appear magic!
Teaching about light can be difficult, not least because many light activities demand darkness, or low light levels, and because children have so many preconceptions about how light works. As children seldom experience total darkness, they may have trouble understanding basic concepts. It is important to remember that the eye is a receptor of light, not a source of it, and we can see because light is reflected from everything to a greater or lesser extent (best from mirrors, shiny and white surfaces; poorly from black and dark surfaces).
Science educational resource provider, Philip Harris, partnered up with Year 1 and 2 teacher, Helen Woolfenden at Holden Clough Community Primary School in Ashton-under-Lyne, to showcase a selection of experiments aimed at helping children to explore light and dark. The following activities use a range of resources available from Philip Harris that will help make this topic lots of fun.
Activities
Log in to your account to read
Reviews
You need to be signed in to place a review.