Generate a buzz of excitement as your class learn the magic of making and using electricity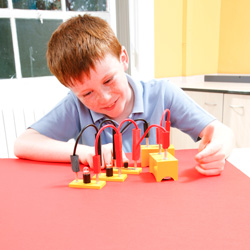 Use Philip Harris' simple circuits to help young children investigate electricity in a safe and fun way
Electricity – children love it but teachers dread its unreliability. However, electricity experiments can be exciting and educational, and can help to teach some common-sense safety ideas. Children get great delight from working with electricity and applying it in a context. But, it's important to remember a few practical safety facts:
Electricity from torch batteries is perfectly safe.
Always use good insulated wire – very thin wire can get warm.
Match bulbs to batteries (1.5V bulb to 1.5V battery).
If something doesn't work, check the connections first. You can only push electricity through conductor materials. These are mostly metals; however, make the push big enough, and water, air and even the human body will conduct electricity – especially when wet. Remember to end each lesson on electricity with a reminder never to play with sockets and plugs.
Log in to your account to read
Reviews
You need to be signed in to place a review.