Cooking is on the ascendancy in schools. If you're worried about your culinary skills, it's time to join a free training class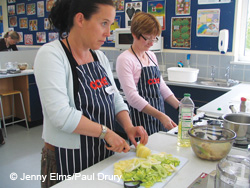 Cooking provides unique opportunities to consolidate learning from literacy, numeracy and other areas of the curriculum. Food in Schools Primary Training is a free continuing professional development (CPD) scheme, available across England. It trains primary teachers in how to provide practical cookery lessons in school and how to teach supporting information on food and nutrition to their children. It forms part of the national Healthy Schools programme, funded by the DCSF, and is designed to help schools meet two of the criteria for the Healthy Schools standard.The key aims are to:
increase teachers' confidence and competence in teaching about food and nutrition
increase children' experience of working with food
increase children' knowledge of diet, nutrition, healthy eating, food chain principles, food hygiene and safety
support the Healthy Eating core theme of the Healthy Schools programme
help raise the standards of achievement in food education
develop a supportive network between schools concerning food issues.
Log in to your account to read
Reviews
You need to be signed in to place a review.