Does size matter? No, says Celia Powell. This book is wonderful for showing children that small people can be brave and achieve great things
Mine's Bigger Than Yours! by Jeanne Willis, illustrated by Adrian Reynolds (Andersen Press, ISBN 9781842707289), is a new favourite of mine, and is chosen for its intriguing title – guaranteed to appeal to boys of all ages! It's brief and colourful, with big bold illustrations and plenty of punctuation – perfect for my 'grammar dance' lessons. There are also bullying issues to discuss, mathematical comparisons to make, and all sorts of science questions to ponder.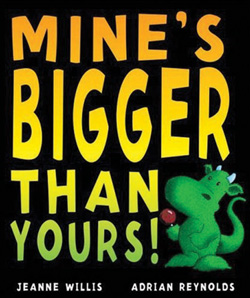 Synopsis
The story tells of Little Hairy Monster, an engaging green creature with a worried expression. The latter is probably due to the large Scary Monster that is following her around, trying to steal her lollipop. Scary Monster threatens kicking, tripping, scratching, shaking and biting (just a normal day in the playground, wouldn't you say?). But Little Hairy Monster tells him to pick on someone his own size and has an ace up her sleeve – a large and protective mummy.
Log in to your account to read
Reviews
You need to be signed in to place a review.