The Anglo-Saxons loved to play guessing games with riddles. These eight riddles come from an ancient manuscript known as The Exeter Book, written in the old Anglo-Saxon language more than 1,000 years ago.
The book contains 96 riddles as well as many other poems. The riddles have been translated and simplified by Rosalind Kerven to help the children understand them.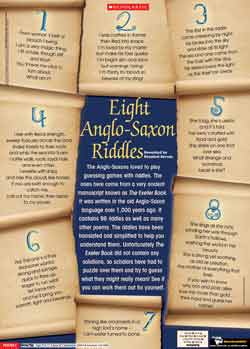 Unfortunately, The Exeter Book did not contain any solutions, so scholars have had to puzzle over them and try to guess what they might really mean. We provide some suggested answers – but see if the children can work them out for themselves.
Shared learning and teaching
Before reading
Log in to your account to read
Reviews
You need to be signed in to place a review.