Discover how traditional card games are the perfect teaching tool for dyslexic children – as well as stacks of fun for the whole class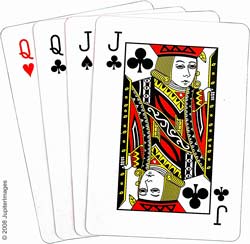 A simple pack of cards can be an invaluable teaching tool in your classroom — and children will be having so much fun, they'll hardly realise they're learning important skills
In the years I spent as a teacher of children with learning difficulties, I have noticed that a dyslexic ten-year old will spend ages concentrating on the visual symbols and number patterns in a game of Rummy, yet put them in front of a standard reading or maths task and they will quickly lose concentration. I am sure that I am not alone in this observation. I am equally sure that the majority of people reading this article who have played Monopoly® could name most, if not all, of the streets on the board, probably in the right sequence and with the right colour as well, without once ever having sat down with the specific purpose of memorising them.
We know that young mammals (including humans) learn through play. We also know that learning can be a stressful experience for children with learning difficulties – they often expect to fail, whereas most of us, when confronted by a task that is appropriate for our ability, expect to succeed. So why not remove some stress, free up some cognition, tap into the natural mammalian learning mode, and use some card games as a SEN teaching tool?
A hand in social skills
In addition to the points above, playing cards is a social activity with a long tradition. In many homes today, the presence of televisions, computers and electronic entertainment, and in many cases, the absence of both space and opportunity to sit together as a family, is causing this tradition to die out. Playing cards can help develop concentration, memory, and a whole range of communication, visual and auditory skills specifically for dyslexic children. In addition, card games can help to develop valuable social skills and values such as turn taking, patience, tolerance, self control and correct attitudes to winning and losing. The classroom can provide a controlled environment where this learning can happen.
Log in to your account to read
Reviews
You need to be signed in to place a review.