Stage a school production and develop children's team work and business skills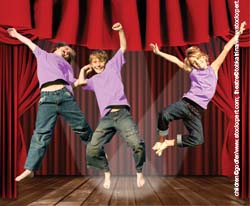 Putting on a school show is an ideal opportunity for developing team work, planning and enterprise skills in children
It's a common misconception that people who work in the arts are somehow less organised and efficient than those who work in business. But just stop and consider some of the skills used by those working in the theatre: the ability to work with others, understanding and meeting the needs of an audience, meeting deadlines, managing technology – all of which is often achieved with minuscule budgets.
The skills learned in taking part in a production are the sort of skills businesses spend a lot of time and money on trying to develop in their employees. And, they can be invaluable for learning, too. They're also really good skills children can apply to learning. There's no substitute either for the way in which a successful school production can build morale and help children, parents and the local community, to see the school, and themselves, in a positive light.
THE PROJECT
Log in to your account to read
Reviews
You need to be signed in to place a review.