This article by Fe Luton focuses on the philosophy behind continuous provision and the possible advantages of continuing this approach to learning right up to Year 6.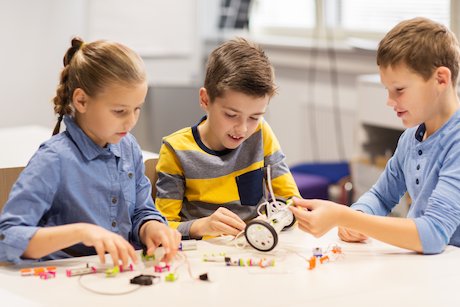 Standing back and watching a child learn independently is spellbinding. Early Years teachers are fortunate enough to experience this magic on a daily basis, through the mediums of self-initiated play and continuous provision. But why does this highly successful approach to learning remain the domain of the foundation teacher? What is the philosophy behind continuous provision, and what might be the possible advantages of continuing this approach to learning right up to Year 6? Here we explore the potential of unlocking this practice across the primary phase and consider how it might look in 'older' classrooms.
What is continuous provision?
Firstly, let's look at what it isn't. It is not a set of independent tasks that children are simply given and asked to go off and complete themselves. It is also not a replacement of the teacher-focused or activity/task-focused approach to learning. Instead, it should complement these aspects of teaching, taking the children's learning into a more independent realm; a realm where the learning is rich in nature and oozes potential.
Think of continuous provision as an approach to continuing the taught aspects of a curriculum through independent enquiry. It is the provision of open-ended resources and challenges, offering a multitude of routes to learning, where the children decide what they want to do. That is not to say, of course, that you can't set some ground rules or boundaries to guide your children, ensuring they are exposed to a wide array of experiences – especially the ones you really need them to experience! The key to successful continuous provision is providing enough of a challenge that sparks interest and enthusiasm without requiring adult intervention. Children must retain the ownership of this learning.
Practicalities of setting up continuous provision in a
KS1

/KS2 classroom:

All classrooms are different and many KS1 and KS2 rooms are often tight on space (and teachers even tighter on time). But don't let the challenges of setting up continuous provision in an 'older' classroom put you off. With a bit of strategic planning any schools can implement it successfully.

Consider the following:
Space – you may have the space to have areas permanently set up, but if not, you could have specific trays where the focus, resources or challenges could change each week or day
Curriculum coverage – use a passport approach that insists on certain coverage as well as more optional provision to help guide your children appropriately. You could also perhaps have three inputs per day with focus groups for English, Maths and another subject, with your continuous provision leading from them
Time – as an alternative to an hour of whole class teaching, children learn remarkably well spending 15 mins in a smaller group with you, then 15 mins on a task and then being given 30 mins of open continuous provision. It is easier to differentiate your inputs working in this fashion, and it also enables children to develop skills independently and through trial and error without the pressure to complete something
Assessment – observations, outcomes and feedback all help you to see how the continuous provision is developing skills. At the higher end of

KS2

pupils can even do this for themselves. Ask them what they actively avoid or always want to do. Ask them how they approach things. Schools that have implemented continuous provision successfully use outcome trackers to record learning
What are the benefits?
Member-only content
Scholastic Resource Bank - join today!
Thousands of resources, activity ideas and games
Choose either Early Years or Primary resources
Unlimited access from just £1.25 per month
Join now
Already a member? Sign in below.
Reviews
You need to be signed in to place a review.