Keeping a child's confidence is a sensitive issue. Sue Cowley steers you along the fine line of trust, protection and policy.
Confidentiality plays a key role in the lives of school staff, and it's important to understand your legal and professional duties in this area. Teachers are often privy to confidential information about their children, and clearly it's vital to keep children's personal details safe and secure. Remember that you should not share private information about a child with the rest of the class, even in the form of a casual comment. For instance, looked-after children might not wish their peers to know about their situation outside of school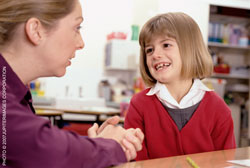 Similarly, be wary of those informal chats in the staffroom where you might say more than is wise about a child in your class, without really thinking about the need for privacy. There will be some aspects of your children's lives to which you are not given access. This is where the requirement for confidentiality lies with another member of the school team, such as the SENCO or school counsellor. Often, the SENCO will be able to give you general advice about a child (like behaviour or background), but will not be able to go into the specifics for reasons of confidentiality.
Log in to your account to read
Reviews
You need to be signed in to place a review.