Get two games in one in this interactive resource for two players. Compete to be the first to label the parts of a castle correctly, then put the instructions in the correct sequence to build your very own castle!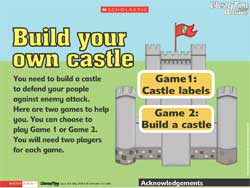 Playing the game
Go to the child title screen where you can choose which game to play by clicking on 'Game 1: Castle labels' or 'Game 2: Build a castle'.
Game 1
Log in to your account to read
Reviews
You need to be signed in to place a review.