From teenage private eyes to mythical dragons, take a look at this selection of new mystery reads for children aged 7 — 11
No Such Thing As Dragons by Philip Reeve (Scholastic, £9.99 HB)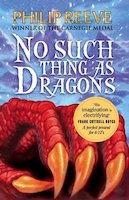 This is Philip Reeve's first standalone novel since his Carnegie Medal-winning masterpiece, Here Lies Arthur (Scholastic, £6.99 PB) and it more than lives up to expectations. Ansel is a mute boy whose father sells him to a dragon slayer. Together, they travel to Drachenburg, the craggy ice-capped mountain where a man-eating beast is said to live. But, Ansel soon starts to question the dragon's very existence…
As a mystery, this is an utterly captivating, sharply plotted book. But it's much more, too. Steeped in an atmosphere of folklore, this tautly-told tale is a quest in the grand tradition of quests – raising questions and exploring truths.
Suitable for: boys; girls; older readers; reading aloud.
Rose by Holly Webb (Orchard, £5.99 PB)
Log in to your account to read
Reviews
You need to be signed in to place a review.