To celebrate the New Year, the Child Ed Plus team review some of the latest children's books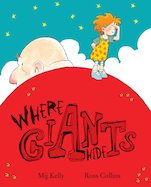 Where Giants Hide by Mij Kelly, illustrated by Ross Collins (Hodder, £10.99)
So, where do giants hide? And what about trolls? And unicorns? These are just some of the many mysteries that the narrator of this charming book sets out to unravel. As she hunts high and low for princes, pixies and mermaids, she reaches the sad conclusion that these things simply do not exist. But the pictures tell a different tale – and your class will laugh out loud at the havoc created as broomsticks and frogs are cast aside because they simply don't do what they're supposed to do. 'Where is the fairy who'll grant me my wish?' our heroine puzzles. ('She's behind you!' your class will shout in response.) 'Don't tell me that goblins are raiding my fridge,' she continues. ('Oh, yes they are!' the children will cry.) It's only when the narrator abandons her fruitless search and sits down to make a wish that she realises exactly where giants really hide. An enchanting book with simple but clever rhyming text and delightful, action-packed illustrations.
Log in to your account to read
Reviews
You need to be signed in to place a review.