'Remember, remember the fifth of November… ' with these explosive activities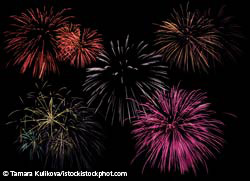 Counting Catherine wheels
Mathematics
Help the children make an interactive counting book with one to five colourful, spinning Catherine wheels. Provide several card discs and encourage the children to decorate them in bright colours. Secure one disc on to the first page of the book using a paper fastener. Check that the disc spins freely to represent a Catherine wheel. Attach two discs on page two and so on. Invite the children to label the pages 1 to 5. Use the book as an interactive counting book or ask the children questions such as 'How many Catherine wheels are on this page?', 'Can you find a page with three Catherine wheels?' and 'How many Catherine wheels are there altogether? Extend the activity by creating a book showing one to ten Catherine wheels.
Log in to your account to read
Reviews
You need to be signed in to place a review.