Binoculars at the ready, the Big Schools' Birdwatch is here again! Why not celebrate the event in your school with these cross-curricular bird-themed activities?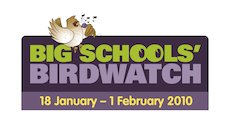 Running from 18 January – 1 February 2010, the RSPB's Big Schools' Birdwatch is a great way to educate and inspire children about the wildlife that shares their school environment. Taking part is great fun and easy to set up – all you have to do is count the birds in your school for a total of one hour, and send in your results to the RSPB. Not only will you be taking part in the world's biggest birdwatch, the information you provide will help the RSPB to monitor UK bird numbers. All the information and resources you need to participate are available on the RSPB website, where you can also order a special activity pack for schools. The pack contains everything you'll need to plan a fantastic birdwatch, including a simple activity sheet counting chart and colour identification poster.
Activities
Log in to your account to read
Reviews
You need to be signed in to place a review.