Beginner's guide to classroom observations
5 Stars
21 January 2008
Add to My Folder
This item has 5 stars
of a maximum 5
Rated 5/5 from 1 rating (Write a review)
A clipboard, a knowing smile, eyes that follow you around the room – yes, the observers are here and they're watching you! Tick the right boxes with this handy guide…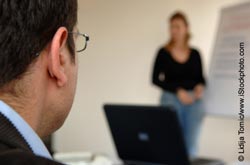 Being observed is like being the star of a show – no matter how prepared you feel, there is always the danger that the critics are going to eat you for lunch. It is the nature of any 'assessment' that your strengths will be highlighted immediate (and then brushed aside), and the negative bits are dwelt on (which you then spend days and months pondering over). Don't worry. Observations don't always have to be a nightmare.
Throughout your career, you will be observed. As an NQT, I advise you get used to it. You will have more people in your class than a Next store during the January sales. These will usually be your mentor coordinators, link inspectors and Ofsted. Even beyond your first few years, regular monitoring will continue – by senior management and/or coordinators. Again, the link inspector may decide to wander around as well as Ofsted. If you'are a Y2 teacher then you can expect more scrutiny than other year groups.
The facts about mentors
Most mentors will have already compled a course of one sort or another. These are run by teacher training establishments or by local businesses. LEAs also run courses to improve the mentoring of new teachers. There are, however, rare occasions when someone who really should not be doing the job might be assigned to observe you delivering a lesson. They might be overly critical, a little negative and make you feel completely useless. This is not a good observer.
Log in to your account to read
Reviews
You need to be signed in to place a review.