This on-screen interactive author study kit includes sample pages and covers from Anita Ganeri's books, a biography, a bibliography and a link to her website.
Author of Scholastic's Horrible Geography series, Anita Ganeri has written many other books, including titles in Evans Brothers' Sacred Texts non-fiction series and its Storyteller series, which links to the major faiths.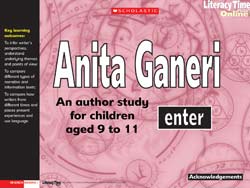 Shared learning and teaching
Before reading
What do the children know about the work of an author? Do authors only work in one genre? Do they know how a text moves from writing a draft to final publication?
Have they heard of Anita Ganeri? Look at the book list, at the covers shown in the biography section, or display any of her books you have in school. Discuss their genre types.
Explain that you are going to carry out an author study. Elicit the sorts of things they will want to find out in order to study this author well.
Log in to your account to read
Reviews
You need to be signed in to place a review.