Bonfire Night can lend itself to an array of fun, creative activities. The ideas that follow provide activities for a fantastic fireworks display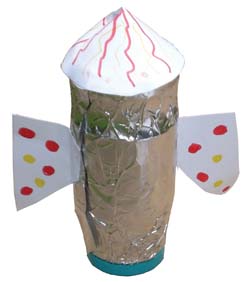 Show the children images of fireworks and talk about the shapes, colours and the noises that they make. Look at different types of fireworks, such as Catherine Wheels, rockets and sparklers. Create a 'bonfire'. Depending on the space available, you could either pile twigs and sticks up in front of the wall display to imitate a bonfire adding red, orange and yellow crêpe or tissue paper to create flames, or stick twigs to the display to form the shape of a bonfire adding colour tissue paper for flames. Create a starry sky for the background using glitter and silver paper.
To create Catherine Wheels, cut a card circle template (about the size of a small side plate). Children can colour this if they wish. On your wall display create a fence on one side – from cardboard. The Catherine Wheels should be attached to this with a drawing pin so that they will spin round. Give the children a selection of coloured paper to cut up into strips. They can curl some around a pencil and leave others straight, adding glitter and sequins to some of the strips to give the impression of light. Stick the paper strips to the Catherine Wheel template. The strips should be long enough to cover the circle and extend over the edges. Push a drawing pin through the middle (under adult supervision) and stick them onto the fence. Spin them round and watch the display!
Rockets can be made from cardboard tubes covered in paper and then decorated. Paper cones can be made for the tops of the rockets. Stick a strip of paper or dowel to the bottom of the cardboard tubes for the stick. Glue or stick the rockets onto the display, as if launching into the night sky. You could even launch your own rockets following Activity sheet, 'Rocket science'! Invite the children to write poems about their firework display and showcase them next to the wall display.
Log in to your account to read
Reviews
You need to be signed in to place a review.