Brush up on children's stitching and papercraft skills with these sweet and simple gifts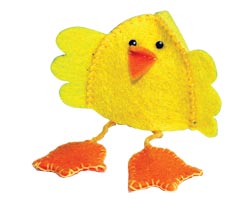 Easter chick egg cosy
This simple sewing project will develop skills of pattern cutting and stitching. Any stitch can be used, but a whipping or blanket stitch work well. For a simpler activity, glue the beak, feet and wings in place and just stitch the main body. Alternatively, add a base and leave an opening in the back seam to fill with mini eggs.
You will need: yellow and orange felt; black fun foam; white pen; yellow cord; yellow cotton; needle and scissors.
Log in to your account to read
Reviews
You need to be signed in to place a review.