This interactive story kit supports children to plan, tell and write their own mystery story set in ancient Egypt. The blank storyboard allows them to drag and drop a selection of characters and settings to plot the outline of their story, while the sentence frames and connecting phrases provided will scaffold the use of the language patterns and sentence structures that are useful in mystery stories.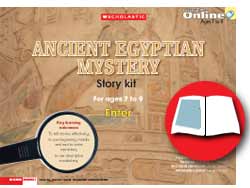 Previous learning
Children will need to have listened to or read several mystery stories so they are able recognise and use the key features of the genre. Discuss mystery stories they have watched, such as Scooby Doo cartoons or the Indiana Jones films.
Preparation
To make best use of the content of the text and enjoy it fully, the children need some knowledge of ancient Egypt and the likely roles, jobs and lifestyles of the characters they choose. That way they will be able to subvert these slightly, or swap character's roles in order to hide things from their audiences or provide the element of surprise needed in mystery stories. Provide some props and artefacts to enable the children to act out parts of their stories in order to empathise with their characters.
Log in to your account to read
Reviews
You need to be signed in to place a review.