This online resource is an interactive dictionary game, where children match 24 topic-specific words to their correct definitions, selecting from a choice of three. The game can be played as a whole class or in smaller groups, and is designed to generate discussion to justify choices and speculate on possible answers. The complete dictionary, showing the correct definitions and modelling dictionary conventions of layout and content, can also be viewed and printed off.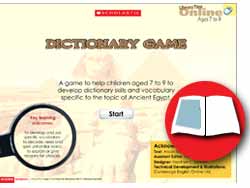 Previous learning
Children will need to have some experience of using dictionaries and know their purpose. They should know the alphabet, but an alphabet display strip is provided for support. Too much prior knowledge of the topic of ancient Egypt may actually spoil the game – it could be used as an introduction to the topic.
Log in to your account to read
Reviews
You need to be signed in to place a review.