In our new globe-trotting series, we explore the largest cities in each of the six continents. This month: Paris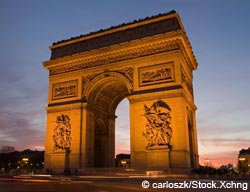 The Arc de Triomphe is one of Paris' most recognised landmarks
Some 12 million people live in Paris and the surrounding area. Always a popular destination for tourists of all ages, Paris is steeped in history and culture and is considered by many to be the fashion capital of the world. As with the rest of the locations in our around-the-world series, Paris provides excellent examples of significant places and environments – an integral part of the locational knowledge section of the QCA Programme of Study in Geography for children in Key Stage 2.
Activities
Log in to your account to read
Reviews
You need to be signed in to place a review.