As a World Book Day treat, Korky Paul reveals how he came to illustrate the Winnie the Witch books, and offers a few tips for the next generation of artists…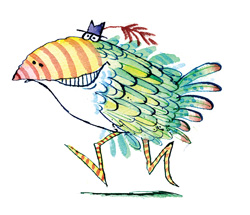 My big break in publishing came when my younger brother, Donald, worked for Oxford University Press (OUP). He wrangled a meeting for me with the then children's books editor, Ron Heapy. Ron looked at my portfolio, photocopied a selection of illustrations and said, 'We'll put these on file,' followed by the usual 'don't phone us, we'll phone…'
As I slunk out, feeling a little depressed, Ron handed me a manuscript. 'Do me three drawings. It's an A4 format, paperback, staple bound and part of an Oxford reading programme. It's about a witch who lives in a black house with a black cat. Written by an Australian school teacher called Valerie Thomas.'
A few weeks later I returned to OUP with three full-colour illustrations in a large picture book format. 'That's not what I asked for!' Ron said.
'I know, but it's a great story,' I replied. 'Pity to publish it as an A4 staple bound…'
A year later…
Log in to your account to read
Reviews
You need to be signed in to place a review.