With the 35th anniversary of Meg and Mog, the series' illustrator, Jan Pienkowski, reflects on a career in illustration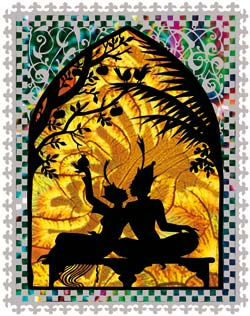 The figures represent Aladdin and his bride, the Princess al-Badur, taken from Jan Pienkowski The Thousand Nights and One Night, published by Puffin Books
The first illustrations I remember doing were for a little book, in Polish, which I did for my father's birthday in 1945, as the war ended.  It was a story of road rage. As there were no cars in those days, it involved a bad-tempered man who gets  his just desserts in a horse and cart. The following year I came to England. I was nine and had never spoken English – until my father sent me to boarding school where I never spoke anything else, so I picked it up pretty quickly.  However, it was not my mother tongue and that may be the reason why I decided to go for images as a career.
Log in to your account to read
Reviews
You need to be signed in to place a review.