Technical development by Cambridge English Online Ltd
This interactive narrative text tells the story of an eventful day in the life of a young dinosaur. Support the children in reading the text for the first time, before letting them explore the resource themselves.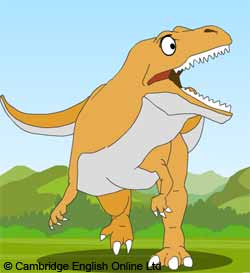 By clicking on the mouse icon they will see some animation or hear a sound that will give additional information.
Shared learning and teaching
Shared reading
Read the title and encourage the children to make suggestions about the kinds of things that could happen in a dinosaur's day.
Lead the children in reading the text. Initially, let them join in with the parts they feel confident with.
Before clicking the icon to show the animation, ask for predictions about what could happen next. Rather than asking for 'hands up', perhaps they could tell a partner, draw a picture or do thumbs up or down to indicate agreement or disagreement with a suggestion. As the story develops, compare what is happening with the predictions made.
Log in to your account to read
Reviews
You need to be signed in to place a review.