Poet and writer Moira Andrew has been working with children in a Cornish hospital. Find out how poetry became a portal to some valuable time-out from the alien environment of the hospital ward.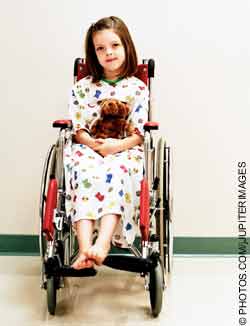 It's the kind of school where children appear in dressing gowns, attached like robots to various drips or clutching a teddy bear. It's a school within a hospital – the Royal Cornwall Hospital (Treliske) in Truro – and the children are patients.
And how did I, an ex-headteacher, poet and writer-in-schools, come to be working there? As a professional member of Lapidus, whose motto is Creative Words for Health and Well-being, I was invited to design a project based on the connection between writing and health. I suggested working on creative writing with children in hospital.
As Michael Rosen has said, 'Poems are one of the best ways in which we can say big things in small spaces…' or indeed, in short one-off sessions, often interrupted by X-rays and scans. It's amazing how quickly children can produce an illustrated poem. They invariably feel good about it and can't wait to show it to mums and dads. Success is essential to their feeling of well-being.
Stretching the imagination
I work in partnership with the Head of Centre, Caroline Johnson. Each visit begins with a planning session, in which the teachers establish which children are well enough to come into the schoolroom and which are to be seen on the wards. As the eligible children can be aged anywhere between four and 16, and schoolwork depends on their treatment and wellness, it's difficult to plan ahead and the teaching imagination can be stretched to its limits.
Early on in the life of the project, I learned to arm myself with all the tools for the job – not only books, but a pencil case complete with a selection of classroom hardware, from pens and pencils to paper clips and scissors. It's a long and tiring walk between the traction wards and the schoolroom if a vital piece of equipment has been forgotten.
For young patients, life on the wards consists of long periods of boredom mixed with a certain amount of fear. The sight of a teacher armed with books and felt-tipped pens provides a welcome break. After all, school is normality for a child and, while they are involved in everyday school-type activities, they become, as one fascinated dad commented, "children, not patients."
Log in to your account to read
Reviews
You need to be signed in to place a review.