Storyshaping is a fun and inclusive way to create and rehearse stories together. We've teamed up with Yellow Door to help you unlock the children's storytelling creativity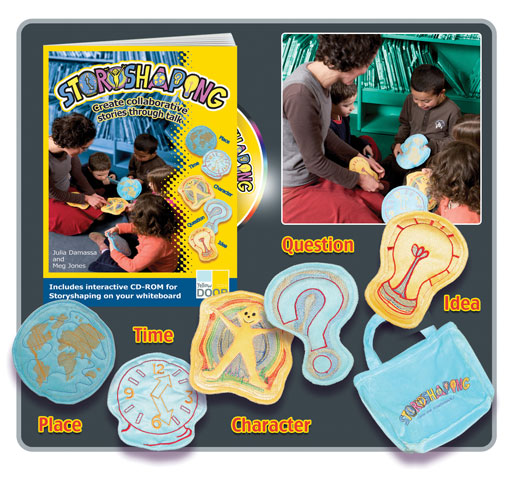 Imagine giving children the opportunity to explore and invent new places, times, characters, questions and ideas in a story, and then using that story as inspiration to access all six Areas of Learning, as set out in the Early Years Foundation Stage framework (EYFS). This is storyshaping – a gentle, interactive way to make and share stories together. Storyshaping places children at the centre of the storytelling process, where they are not just being creative, but they are the creators of a new story.
Storyshaping uses five Storyshapes that represent the building blocks for a story – place, time, character, question and idea. The tactile shapes are passed around a small group of children and used as prompts to build a story through talk. If you do not have a set of Storyshapes, you can still use these five concepts as prompts for creating a story with a group of children.
Storyshaping can be inspired by anything, anyone or anywhere. Enjoy exploring a variety of books, stories, rhymes and imaginative play opportunities to find inspiration. Parents using English as an additional language (EAL) and who come in to share stories from their culture, plus grandparents' memories of childhood, would also make wonderful starting-points.
Speaking and listening
In the days following a storyshaping session, consider how themes from your story can be translated into play and learning to develop the children's speaking and listening skills. For example:
Sit in a circle with a small group of children. Whisper the name of one of the characters to one child to pass on to the next child. The last child then speaks it out loud. Take this further by giving clues about a character and encourage the children to guess which character you are thinking of.
Ask questions about the story, its characters and events.
Encourage the children to retell their story, to listen to other retellings and to discuss words that they are unfamiliar with.
Retell the story through mime and let the children fill in the words.
Invite the children to act out their story. Provide a selection of costumes to encourage this and ask the children to look for appropriate props in the setting or to make their own simple hand puppets.
Let the children choose how to develop the story. Encourage creativity in all its forms, using body sounds, instruments, fine motor skills and crafts to extend the story. Explore the story through small-world play opportunities using suitable toy characters and settings.
Log in to your account to read
Reviews