Prepare to get hot under the collar as we take a tour of this exciting location
Throughout this series we have snooped around a witch's cabin, explored the Ice Queen's grotto and made ourselves at home inside a woodland den. Now it's time to pack our bags and don our super- sleuth hats, as we prepare to enter the dragon's lair…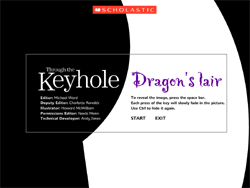 Who would live in a lair like this?
For members accessing this resource, it works best viewed full screen on an interactive whiteboard. By pointing at different areas of the screen, children will be able to move the keyhole and view various sections of the image. By studying what they see, children can build up an overall picture of the room and its owner, via the objects and features that they identify.
When you're done exploring, the whole image can be revealed, so that children can see the full location in all its glittering glory. This serves as a great backdrop for drama and role play, or as a visual stimulus for story-writing.
Log in to your account to read
Reviews