Everyone's invited, so don't miss out on the last in our series of fun-filled numeracy ideas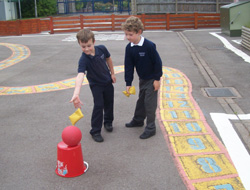 Fairground games can provide an exciting opportunity to boost maths skills!
Turning your classroom into a stall at a fair is a great way to introduce your class to a wide range of numeracy themes. For example, a tombola will help children to identify multiples of five and ten, a raffle is great for place value, and a game of skittles can add some fun, and possibly an element of danger, to a lesson on addition. If you like your lessons to be 'child-led' then allow your class to plan and hold a fair of their own. This is the perfect way to end a series of fairground-themed maths lessons (see the Sept-Nov '09 issues of Child Ed PLUS), encourage teamwork among your class and allow you to observe their problem-solving skills in action.
This month's activity is based on an event planned and carried out by my Year 1 class last summer. The children had to organise a fair for the Year 2 children to celebrate the end of SATs. Each team had to devise a game for the Year 2 children to play and, as an extra incentive, there was a prize for the most successful stall. The fair was the culmination of our topic on 'circuses and fairs'. We try to end most of our topics with a celebration, but the activity would work just as well as a one-off event.
Log in to your account to read
Reviews