Are you an NQT? Do you struggle with classroom behaviour? Avoid that sinking feeling with some easy-to-follow tips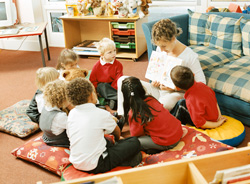 Image © Bananastock/JupiterImages/GettyImages
According to research commissioned by the largest teachers' union, NASUWT (see 'Further information', right), dealing with behaviour issues is one of the key concerns for new teachers. The research found that almost half of new teachers felt that the behaviour management training they received was inadequate, and that this had a serious impact on recruitment and retention.
After five minutes on the carpet, the children will be starting to wriggle; after 20 minutes there will be a full-scale riot. A great rule of thumb for children's concentration levels is 'their age plus two'
To an extent, you learn to become a teacher by being a teacher and making your own mistakes, but the current approach leaves many to sink or swim. Clearly, changes need to be made, with a better balance between theory and practical advice during initial teacher training. Although it's important to understand the theoretical underpinnings of what you do in class, practical strategies are what you need to survive from day to day in the job, particularly in the tricky first year.
Log in to your account to read
Reviews