Unveil the history behind this ancient wonder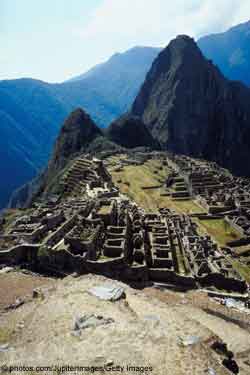 Download a stunning A4 Poster, to display in your classroom.
Plus, read our FREE Activity sheet, 'Mysteries revealed: Machu Picchu' for more facts about the site.
Taking inspiration from the Latin word for 'a reminder' (monumentum), our history series focuses on some of the world's greatest – and most mysterious – historical monuments. The monuments featured have linked activities designed to encourage children to reveal the mystery (or not!) behind these landmarks. A snap shot of relevant background information (for teacher reference or to extract and share with your class) and a stunning A4 poster will be provided each month for the monument in focus. This month, we focus on Machu Picchu.
Background information
Machu Picchu – the words literally mean 'old peak'. It is situated above the valley of the River Urubamba near the city of Cuzco in Peru, South America. It is built on a ridge in the Andes Mountains almost 2500 metres above sea level.
The Incas, probably under the rule of Emperor Pachacuti, started building Machu Picchu in the mid 15th century. But, by the time of the Spanish conquest, some one hundred years later, it had been abandoned. It is possible its inhabitants were wiped out by a smallpox epidemic.
The site contains palaces, temples, houses, storage rooms, water channels, drains and baths, and fields for agriculture. It could have housed up to one thousand people.
The stone used in building Machu Picchu is granite taken from the mountain site itself. The Incas had no metal tools so the shaping of the stones was carried out by using smaller pieces of rock called hammerstones.
The Incas had no wheeled vehicles or cranes to help them build, so all the stonework was moved by human labour. They did make ropes but engineers think that a system of ladders and levers were used for moving larger stones over long distances and up gradients.
Although known locally, Machu Picchu was brought to international attention in 1911 by American historian, Hiram Bingham, who worked as a lecturer at Yale University. He is said to have been led to the site by an 11-year-old boy, Pablito Alvarez. Since then it has become an important tourist attraction and it was made a World Heritage Site by

UNESCO

in 1983.
Subscriber-only content
Scholastic Resource Bank: Primary - subscribe today!
Over 6,000 primary activities, lesson ideas and resources
Perfect for anyone working with children from 5 to 11 years old
Unlimited access – only £15 per year!
Subscribe
Already a subscriber? Sign in below.