Central to this on-screen resource is an audio poem, 'Dancing Ganapati', read by the poet, Debjani Chatterjee. Additional screens give information on the author, on Ganapati, and the religious and cultural significance of elephants in history.
In Hindu culture, Ganapati is the the God of Wisdom and Good Luck and the 'Remover of Obstacles'. His name means 'Lord of the Ganas' – the ganas being demi-gods who attend on Ganapati's father, Shiva. He is also popularly called Ganesh or Ganesa. His elephant head has earned him the epithet Gajanan ('Elephant-face').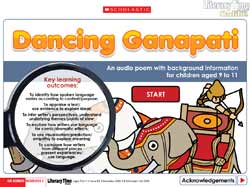 Shared learning and teaching
Before reading
Display the name 'Debjani Chatterjee' on the board. What would the children like to know about this person? Bank the questions and refer back to them later.
Sharing the text
Listen to the poem. Discuss the way it is read and what they gain from hearing it as opposed to reading it to themselves. Discuss the choice of background music. How does the poem make you feel?
Investigate any unfamiliar language – eg, pachyderm/savoured.
Read the poem up to the full stop, noting how the punctuation helps you to read it effectively. Listen again to the recording and note where the reader pauses.
Discuss how the ideas are held within each line, but how the sense is made via reading up to the full stops.
How has the writer created such clear images? Explain the concept of high impact words. Focus on the effectiveness of the verbs and adjectives. What sort of questions would the writer have asked herself in order to select the perfect words? Return to the writer's probable feelings about the elephant and refer to the biography during this discussion.
Compare with other poems about animals, such as 'A Spider' by Colette Bryce or 'Taking out the Tigers' by Brian Moses. Discuss how the writer creates their picture and communicates their feelings about the animal.
Log in to your account to read