Discover how a large nursery with 126 children on roll manages to offer outstanding provision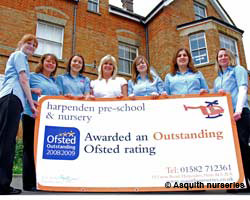 Harpenden Pre-school and Nursery became the sixth nursery in the Asquith group to receive an 'Outstanding' report from Ofsted earlier this year. When manager, Sandra Harvey, heard the news, her first reaction was to say, 'OK, what are we going to do now? How can we make it better?'.
'That's what makes them outstanding,' says Poppy Ellis, Asquith's care and education manager. 'Sandra and her team are driven and focused on what they want to achieve. Whenever I visit, they always have questions for me, and when I give advice, they always react in a positive way.'
Sandra admits that the inspectors' verdict was a relief. 'On their last visit, they said that we were satisfactory, but that was three years ago, only six months after we had opened. It wasn't a true reflection of where we are now. Of course, I'm delighted and proud of what we have achieved, but it doesn't mean we can relax!'
Harpenden Pre-school and Nursery is run from a converted house. Sandra took on the role of manager three years ago when it first opened and had two rooms with eight staff. There are now seven rooms, 33 staff and 126 children on roll, 84 at any one time.
Log in to your account to read