This on-screen kit will help children to write a play script of the Nativity story and perform it. It contains extracts from The Shining Signing Star (by Garry Slack), signs to go with the script, a song from the play, background scenes and character cut-outs, plus tips for performing a play and how to rehearse effectively.
This is not intended for use as a single lesson; it will be a unit of work developed over several days or even a week or two, depending on your desired outcome.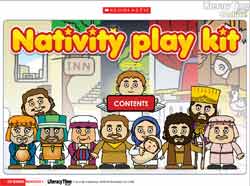 Shared teaching and learning
Before reading
Discuss with the children what a play script is and how this differs from narrative. Tell the children that this unit of work will help them to write their own play scripts for the Nativity story and look at the contents of the kit and relate these to the things they will need to consider when writing their play.
Look at the way the extract from The Shining Signing Star is set out. Make a list of key features which you can use when writing your own play scripts.
Ask the children to share the story of the Nativity as they remember it. Make a list of characters and settings from the story. Cross-reference these with those in the kit.
Shared reading
Read the story of the Nativity, retold by David Clayton, to the children. Look at the pictures. What are they showing? How would this be shown as a play? What would you need?
Reread the paragraph beginning 'Just before the baby was born'. What part of the story is this?
Now look at the extract from the play and choose children to read out the various parts. What is the other text, that is not a speaking part? What is its purpose?
Discuss how stage directions help to develop the story further by directing actors regarding positions and gestures, and when to enter/leave the stage. What scenery and props might help to advance the plot?
What differences do the children notice between the narrative paragraph and the scene from the play depicting the same part of the story? Make a list of the extra detail drawn out of the story in the play script. Discuss how it would be very difficult to put all of this into narrative without the text becoming too long and overloaded with description. Draw out the purpose of a play script – it is intended for an audience to watch, not simply listen to as they would a story, so attention must be paid to the visual telling of the story as well as the auditory.
Log in to your account to read