Original article published on 29th October 2009
This game, for two players, uses time connectives to give a sequenced account of events related to the spreading of the Great Fire of London of 1666. The events are presented as simple diary entries so the poster could also be used as an information text, linked to work in history.
The time connectives are a key focus for learning while playing the game and the connectives listed on the activity sheet below are to be used with the game, and can also be used afterwards to reinforce this learning.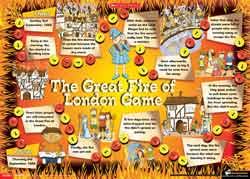 Preparation
Make a copy of the activity sheet below and colour it in two different colours, one colour for each player. Cut up the connectives so you have ten playing cards for each player. Not all the cards will be used in any one round of the game but can be used in subsequent games and can also be used to practise the sequencing language.
You will also need one dice and a counter for each player to move around the board.
If the children have been learning about the Great Fire of London, talk about the things they know. If not, explain briefly about what happened to set the context for playing the game. You could use the recount of the fire in On-screen resource 2, I was there… or the information about the same event in the interactive timeline (On-screen resource 1).
Log in to your account to read