This interactive text allows children to sequence events from the past, present and future in a timeline and view a slide show explaining each event in more detail.
It will develop children's understanding in both literacy and history. Some previous experience of timelines would be helpful.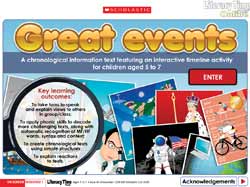 Shared teaching and learning
Before using the resource
To revise the way timelines work, why not ask the children to sequence pictures of themselves, showing how they have changed? Alternatively, use some large hoops and dates. Place one hoop near your feet and explain that it represents 'today'. Place another hoop a bit further away and explain that it represents 'yesterday', then another further away to represent 'last week'. Keep placing hoops further and further away until eventually you may be outside in the playground with the 8th century. This will help the children to 'see' how far back in time you are going when using the on-screen resource.
Log in to your account to read