Count down to Christmas with your class using our exclusive online advent calendar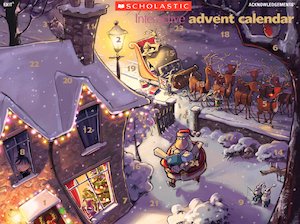 1 'I can't wait!' poem
Talk about the feelings of anticipation and excitement we feel when we are looking forward to something. Ask the children to complete the sentence, 'I felt so excited when…'
2 Make a holly wreath
Cut out a ring from a paper plate. Cover with paper holly leaves and berries made from coloured card and tissue paper. Thread gift wrap ribbon over the ring and tie with a big bow.
3 Tell the Christmas story
Use the online pictures to retell the Christmas story. Talk about Mary and Joseph travelling with a donkey, the shepherds and the three Wise Men. Can the children tell you what happens in the next picture?
4 'Happy Snowman'
Create an acrostic poem as a class. When the children perform the poem, get them to hold up matching letter cards as the lines are spoken.
Log in to your account to read