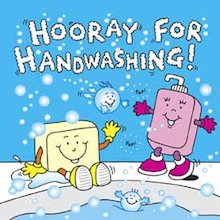 With the current threat of swine flu, keeping children clean and instilling good hygiene practices has perhaps never before been more important. To help, the UK Cleaning Products Industry Association (UKCPI) has produced a teaching pack, Hooray for Handwashing, that addresses the need for good hygiene.
'Handwashing is considered by many health experts to be the single most important way to reduce the spread of infectious diseases in childhood settings. So, we're encouraging teaches to ask: Hands up, who's washed their hands today?' says the UKCPI.
Hooray for Handwashing contains some basic hygiene facts (such as the sources of germs and their invisibility, plus the fact that not all germs are harmful) and guidance on handwashing. It comprises a colourful and illustrated eight-page booklet written in rhyme, a poster and teaching notes.
Hooray for Handwashing is free and available to download now from the UKCPI website. Copies of the booklet and poster (supplies are limited to 30 copies per request and are available while stocks last) are also available by emailing ukcpi@ukcpi.org or telephoning 01829 770055.
Reviews