In Leaflet 1, Brenda Williams retells the famous Anglo-Saxon legend of 'The Sword in the Stone' in playscript format. The script has parts for seven main characters, making it perfect for group reading or performance.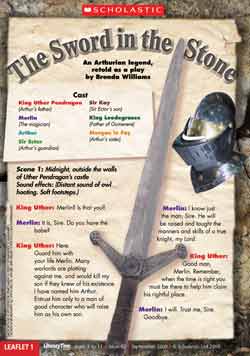 These Teachers' Notes accompany the PRINT ONLY guided reading leaflet in Literacy Time PLUS Ages 9 to 11, September 2009.
Before reading
Allow children to scan the text. Establish that it is a play script and recap conventions of script writing in terms of layout and technical terms.
If possible, read and/or watch some versions of the Arthurian legends and examples of adaptations of the sword in the stone legend.
Guided reading
Read the script as a group, taking different roles. Emphasise the importance of tone of voice and how to use stage directions to influence delivery of lines.
Study the language style. How is the 'ancient' feel achieved? Look at: "It is Sire. Do you have the babe?" and "Entrust him…". Why does the writer use this style? Would the script be effective if written in an entirely modern way?
Demonstrate how to track a character's thoughts and feelings as you read. The children can then try it independently, using the activity sheet below as a guide.
Compare the play script with another version of the legend. Look at differences in text organisation and detail. Discuss how organisation and language style change depending on the text's purpose.
Investigate how tension is built up. Identify phrases that would help actors to portray the tension.
Log in to your account to read