This biography tells children all the key facts about the life of King Alfred the Great, presented in clearly organised sections. Some previous knowledge of the general social and historical events of the Anglo-Saxon period would be helpful.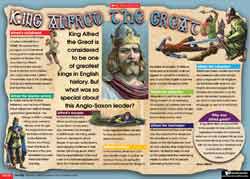 Before reading
Look at the layout of the text. Are the subtitles useful?
Discuss the features of a biography and the difference between biographical and autobiographical writing.
Discuss prior knowledge of King Alfred.
What questions about King Alfred would you like the text to answer? Which question types would elicit most information – eg, 'How' and 'Why'?
Shared reading
Skim read the poster quickly and decide how useful it is. Does the simple, straightforward language written in short paragraphs, make it more accessible?
As you read in more detail, make notes on each section, highlighting the most important facts and new words.
After reading, discuss which questions have been answered. What further facts would they like to know? Follow this up later, through research in groups.
Log in to your account to read