This Anglo-Saxon folk tale about two young captives, fair Hiltgunt the cunning and brave Waldere the hero, is presented as a virtual storybook, in a style reminiscent of an illuminated manuscript.
Retold for Literacy Time PLUS by the author of the Grim Gruesome: Viking Villain books, Rosalind Kerven, it tells their story as they outwit the mighty Attila of the Huns.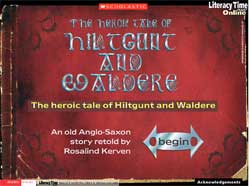 Before reading
Ask the children what they know about folk tales and traditional stories. What would they expect to be included in the story: types of character; types of setting; dilemmas, conflict and resolution?
Discuss how tales would have been presented in Anglo-Saxon times – not in book form but orally by storytellers. What implications would this have? They would not be static; they would change with each telling although key elements would remain the same.
Shared reading
Comment on the presentation of the text. There are echoes of illuminated manuscripts. Have the class seen this device used in other media (eg, cartoons, films and comic books)?
Scan the title screen. Predict how the rest of the text will be set out.
Invite individuals to read a page each and pause to discuss before 'turning over'. Decide how each page moves the story on and what information it provides about characters, setting, passage of time, conflict and resolution.
Discuss how the author acts as storyteller, giving the command 'Listen!'; creating a dialogue with the reader by addressing them as 'Lords and Ladies'; asking direct questions and suggesting what they are thinking.
Highlight the use of adjectives and adverbs to describe characters, places and situations.
Log in to your account to read