This information text provides biographical details about the famous people who appear on our banknotes.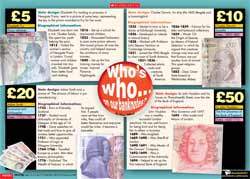 Shared teaching and learning
Before reading
Begin by looking carefully at the detail on each banknote featured. You can view full versions of the banknotes at www.bankofengland.co.uk/banknotes/current/index.htm. List everything you can see on each note. Do the children recognise the faces on the banknotes? (If possible, provide some additional pictures of these people.) What did they do to make them famous? Why do you think they were chosen? Record their ideas and comments using a mind-map.
Run through with the children any technical vocabulary in the text (such as reforms/reformer, Quaker, inmates, botanical, philosopher, merchant) which might cause problems during reading.
Log in to your account to read