This rap poem by Paul Cookson is ideal for investigating the use of rhyme and rhythm in poetry, and playing with the syllables and the beat of individual words.
Rap is a genre of music in which rhyming lyrics are used, often with musical accompaniments. It has developed from the West African tradition of delivering stories rhythmically with drums and is now associated with hip hop music, which began in the Bronx in New York in the 1970s.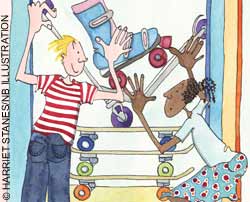 Previous exposure to different forms of poetry would be helpful, as would some experience of picking out and labelling rhyme patterns and an understanding of the function of adjectives.
Shared teaching and learning
Shared reading
Explain that rhythm is very important in rap poems, then read the poem through together twice to help the children to pick up the rhythm.
Decide which syllables are emphasised in each line and clap on these.
Which instrument or instruments would the children use as an accompaniment to reading the poem?
Log in to your account to read