Sue Cowley explores the key areas that affect new starters, and offers advice and top tips on how you can help to make the transition process easier
Some children cope easily with new experiences and move into an early years setting with ease. These children are typically confident individuals, or those who have already spent time with different carers. But other children will find it hard to settle, or might have special circumstances that make it tricky for them to relax and be happy in your setting. In this four-page special, you will find tips and advice for helping all kinds of new starters as they begin their time at your setting.
The Early Years Foundation Stage framework (EYFS) states that children should 'feel safe and secure within healthy relationships with key people' and that they should 'show increasing confidence in new situations'. Clearly, these are longer-term aims that the setting must work towards with each child. But practitioners should also bear these goals in mind during the initial settling-in period for each child.
Separation anxiety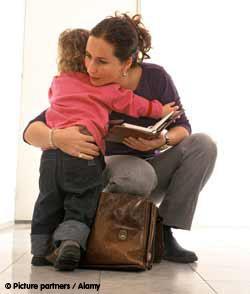 It is entirely natural for children to find the initial separation from their parents upsetting, and for their parents or carers to get upset as well. For most, time is the best remedy – after a few days or a couple of weeks, the child is keen to attend the setting and barely notices when Mum or Dad leaves. Some children and parents, however, will display very high levels of anxiety. Where Mum or Dad feels unhappy, insecure or guilty about leaving the child at the setting, this can be passed on subconsciously to the child.
Where practical, a slow introduction to the setting works well. Gradually, the child stays for more time, and the settling-in period is smooth for all concerned. A home visit can also ease a child's transition into your setting (see the June 2009 issue of Nursery Education PLUS for more on home visits).
For some settings, however, it is not possible or practical to make a gradual introduction; some children can remain anxious about separation, despite a gradual approach. Where this is the case, you will need to deal with children who are upset when their parents or carers drop them off. At all times, remember to see the situation from the child's perspective: being left in a new environment with people they hardly know must be unsettling.
Sometimes a baby or child will appear very upset on being separated from Mum or Dad, but within a few minutes is happily playing. Meanwhile, the parents tear themselves apart with worry that their child is sobbing their heart out all day long. Tell the parents that you will contact them if their child does not settle quickly and the crying continues for more than a short while.
Help parents to ease the settling-in process by giving them a copy of the 'Settling your child into the setting during the first few days' advice sheet.
Top tips for easing separation anxiety
Encourage parents and carers to be confident about dropping off their child, for example, a smile, a kiss and a promise to collect them later, rather than a prolonged and tearful departure.
Give parents some quick activities to carry out with their child before they leave, so that drop-off time has a sense of pace and purpose.
Ensure that the child's key worker is available at drop-off times, so that the child starts to build a relationship. Make it a priority for the child to have the same 'friendly face' to look out for each day when they arrive at the setting.
Acknowledge the child's emotions, for example, 'I can see that you're feeling really sad', and do not be afraid to give them a cuddle or a hug as you feel is needed (see the 'Further information' box)
Encourage the other children at your setting to help the new child settle in – often children are distracted much more readily by their peers than by adults.
Find ways to link the home and the setting, for example, a diary in which parents and practitioners can share information about what the child has been doing.
Subscriber-only content
Scholastic Resource Bank: Early Years - subscribe today!
Over 2,000 early years resources, activity ideas and games
Perfect for anyone working or playing with children from 0 to 5 years old
Unlimited access – only £15 per year!
Subscribe
Already a subscriber? Sign in below.