Children have wonderful imaginations and love using them to create their own adventure stories. This audio-visual resource aims to stimulate their imaginations to produce stories that will excite both writers and readers.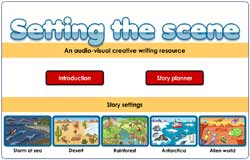 It comprises a set of five scenes, each including sound effects and pop-up text boxes containing background information and ideas for telling stories from different points of view and what might happen next.
Shared teaching and learning
Tell the children, in advance, that they are going to write their own adventure story in groups. This will allow them to mull over ideas in their heads. Let them choose their own groups of two, three or four, with at least one able child in each group.
Imagine yourself there
If you have an interactive whiteboard, take a digital photo of each group and download them onto your computer. Strip away the background and make the images of the children smaller. Now upload their images and overlay them on the setting of their choice. This is not only fun to do but will really fire the children's imagination, as they can see themselves within the setting and imagine the sights, sounds and smells around them.
Log in to your account to read