Use our poster to help boost punctuation purpose and effect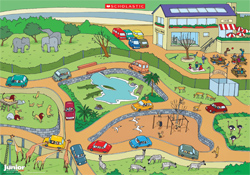 Punctuation is not a haphazard collection of symbols; it is a well-planned code. Used deliberately, the code contributes to a text's meaning, its mood and effect on the reader. Once children understand the benefits, they too will want to punctuate effectively.
Our new series aims to emphasise the power of punctuation. After an introduction to its purpose and effect (this month), we'll focus on its use in different contexts: conversational texts (Aug '09), instructional texts (Sept '09), and descriptive texts (Oct '09). The series also uses the colourful Poster, 'Punctuation Safari Park' to help put punctuation in context. Display the poster somewhere prominent and the children will be able to use it for inspiration, while enjoying the challenges of some fun punctuation work.
Log in to your account to read
Reviews