A new website is taking picture books and making them accessible in all forms of communication. What a clever idea, says Charlotte Ronalds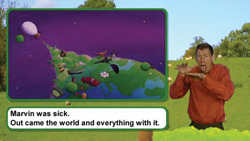 Signed Stories (www.signedstories.com) is a free website from ITV that contains well-known stories fully accessible in sound, sign, text, pictures and animation. Designed primarily to help improve the literacy of deaf children, it also has great potential for hearing children. And, with a pledge that they will upload one new book every week, the site is well worth a look. Below are some activities that focus on just two of the books available – there are many more.
In Polly Dunbar's story, a young boy called Ben goes to increasingly drastic lengths to get his new penguin to talk. Yet Penguin prefers to say nothing… until something happens to Ben, that is. This is a wonderful story of friendship and how we all have different ways of expressing ourselves.
Spot the sign
Log in to your account to read