Lift the lid on this Greek myth to discover an exciting array of cross-curricular activities that will get children's imaginations racing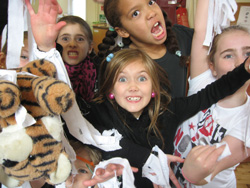 When devising a drama activity, you want to provide a range of things: scope for imaginative role play; a way for the children to try various roles; an activity that easily incorporates music, dance and costume; and opportunities for cross-curricular links. Not only does the following drama lesson tick all these boxes, it is also easily expandable and lots of fun!
Demon drama
Start the lesson with a story circle. 'Pandora's Box' will probably be a new story to many children, so read the retelling below, and answer any questions.
Ask the children to find a space to lie in, eyes closed, while you play some music to create a magical atmosphere (such as 'Aquarium' in The Carnival of the Animals by Saint-Saëns). How does the music make the children feel?
Invite the children to move around the room as demons while the music plays, thinking about which demon they are being. Can they think of their own demon based on something they really dislike, such as a bullying demon? Ask them to think about how their demon moves. Can each child isolate a particular facial feature and make it appear nasty, using just their eyes, mouth, teeth and head?
Log in to your account to read